Wiki Targeted (Entertainment)
Play Sound
This page is about the 2006 pilot, for the 2000 or 2004 test pilot, see the Yo Gabba test pilot before this pilot was made.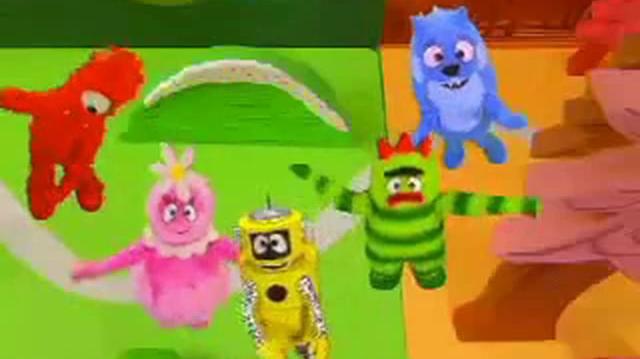 Somehow Similar to The Nick Digital CGI Pilot of The Backyardigans, After the The pilot "Yo Gabba" was either been rejected, The pilot was eventually re-worked due to probably terrible green screening, and it was in low budget filming at a green screen. This was later titled Yo Gabba Gabba! on March 17, 2006, in a post by stevejonestherealbones on Punknews.org, These two pilots were aired on July 8, 2006 in Los Angeles, California according to its IMDb page. (some older edits on Wikipedia thinks their were aired in January 1, 2006 and December 31, 2006, but their wrong).
These 2 pilots were produced in 2005, and the pictures of Tihane Wolfgramm and Nora Wolfgramm were filmed in February 23, 2006. The first pilot was called "Short Story" and the second one was called "Play". The first pilot "Short Story"s closing remix was done by Digital Unicorn, and the "Play"s closing remix was done by Lance Robertson (who plays the presenter of the show, DJ Lance Rock). "Short Story" was uploaded on December 31st, 2020. As for "Play", on February 15, 2021, it was found, but in March 2021, it unfortunately got copyrighted. And now "Play" is partly found, due to how there are a handful of segments that are from the "Play" that were uploaded online. Said segments include called La La Doodles, and Bubblebeard.
A promo and the theme song have also been uploaded to YouTube and Vimeo (theme). Julius The Monkey also appears in "Short Story" by doing the Peanut Butter Stomp. In fact, Their was a early merchandise of it by Paul Frank, which features Muno in a Tote Bag. The Biz Markie appears in play his dancy dance is unknown it could be the twirly Whirley why because and friends and scary the peanut butter storms soundtrack was in them and in Together and find the same soundtrack as the twirly Whirley also happens so the twirly whirly might be in the second pilot It's currently unknown what other segments were on "Play", But They reused the segments in the test pilot, as the final versions of Games with Foofa and Play Pretend With Muno, although possible segments like Hey, Won't Somebody Come and Play, Pick It Up, Super rad and Pool Party might be in "Play".
There were blogs about the pilot in June 2006, and the videos were also uploaded in YouTube in the same year (some the earliest ones were copyrighted or it got deleted). The pilot had it's own website, in June 2006. Like The Wow! Wow! Wubbzy! pilot, The show was planned to be aired in Spring or Fall 2007, but it was changed to August 20, 2007, (when it was still summer). The website featured the audios of Party in my Tummy and Keep Trying, However, when the Nick Jr. page about it was made. The website still remained as the old site until when the show premiered in 2007, When it was closed.
The Yo Blogga Blogga site was created in February 2007 and features one page that uses the 2006's website. A video by HaroldChizick titled "Crazy Yo Gabba Gabba Kid" shows his son "Eric" dancing crazy with the intro. A video titled "Birthday!!!" shows a orange cake with Brobee and Toodee in it. The earliest fan art of the show was "yo gabba gangstas" posted in August 17, 2006 by Belosh, and more fan-art in 2007.

The segment from Colors with Brobee and Listen to Sounds with Toodee in Play! were reused as their final version in Imagine (the season 1 finale), and Happy. A Similar version of Play Pretend with Muno in both, This and the test pilot were used instead, Christmas Tree (in the final version), on Christmas. For the actual show, In Eat (the first episode) shows a final version of the Party in my Tummy song, and in Share when the Don't Take It Away song in its final version.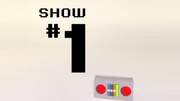 Gallery
Sources

.https://en.wikipedia.org/wiki/List_of_Yo_Gabba_Gabba!_episodes.
.https://www.google.com/url?sa=i&url=https%3A%2F%2Fwww.food-costumes.com%2Fcharacters%3Flightbox%3Dimage1kiu&psig=AOvVaw3BtVFkPFK-I6f1iK60L04J&ust=1607009234711000&source=images&cd=vfe&ved=0CAMQjB1qFwoTCPDj34bOr-0CFQAAAAAdAAAAABAO
Short Story can be seen here in 2 parts uploaded by RayStarKitty (who is one of the users for Lost Media Archive) :https://vimeo.com/user129601644
Short Story can also be found in 1 single video in this link: https://youtu.be/TtgAk5AooNQ

Updates
UPDATE 02/15/21: The Second Pilot has been fully found (NOT TRUE)
UPDATE 06/7/21: We found out Bubblebeard might be in "Play"