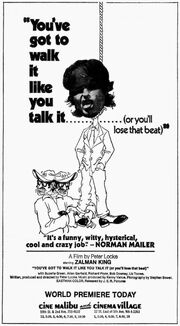 You Gotta Walk It Like You Talk It Or You'll Lose That Beat is a 1971 drama/comedy film that has not resurfaced in any form after being originally screened in theaters.
It is notable for its soundtrack performed by Donald Fagen and Walter Becker, one year before they would form the famous band Steely Dan. Nowadays, the film soundtrack is all that remains from the movie, including the poster on the cover. The cast also featured Richard Pryor in one of his earliest film appearances, as well as Robert Downey Sr.
The plot centered around Carter Fields, a young hippie who goes to Central Park in order to find meaning in his life, and meets a range of strange people as he goes after happy and disastrous events.
Director Peter Locke stated in an interview that the film "isn't a very good [one]" and that it "might be in the cemetery", despite praising Richard Pryor's performance. However, he doesn't dismiss any possibility of a DVD release in the future as "it all ends up coming out".
Community content is available under
CC-BY-SA
unless otherwise noted.