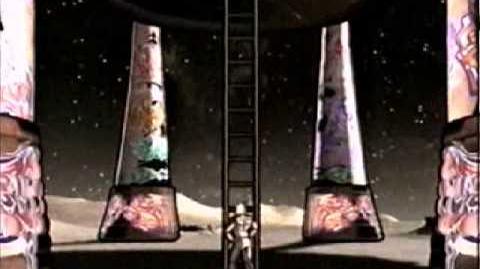 Youri, the Spaceman is a 2002 CGI animated series created by Sparkling*, the (now-defunct) subsidiary production company of France-based Sparx* Animation Studios. The series, produced for Cartoon Network, La Machine, Method Films and FTD, consists of 26 three minute episodes, each featuring short glimpses into the life of Youri, an astronaut that has become stranded on the moon.[1][2]
Not a lot of information on the series is available (despite that fact that it was seemingly popular enough to warrant the release of merchandise such as figurines)[3] and it's unclear as to exactly which countries it aired in besides France and Australia, (if any), with the latter of the two broadcasting it in its English dub in the mid 2000s as a part of the then-weekly "Happy Tree Friends and Friends" adult animation block on SBS, which had a sporadic runtime of anywhere from 5 to 30 minutes, depending on the week.
The series never received a home media release of any kind, eventually falling into obscurity; oddly, it is not even given a single mention on Sparx* Animation Studios' current website. Even more oddly, Walmart inexplicably lists the series on their video on demand service, despite not having any of the episodes actually available for purchase.[4]
Notably, in 2011, the show was reworked into a comedy series titled Space Cadets, for the Sci-Fi Channel (now Syfy), by brothers Scott Alexander and Craig Trevor Young. Space Cadets consists of footage and music/soundtrack elements created for Youri, the Spaceman, (with altered storylines) and has a much more dialogue-heavy dub than the original 2002 series.[5]
Of the 26 produced original episodes, only two of them have surfaced online, one of which was sourced from a 2004 "Happy Tree Friends and Friends" VHS recording by article author and Lost Media Wiki founder, dycaite. Besides these two found episodes, the only additional footage of the show available appears in a demo reel uploaded by post-production manager, Laurent Langlais.[6]
UPDATE 18 Apr '14: Last night, while going through some old VHS tapes, I came across a copy of the J-Horror Dark Water, as recorded by myself in 2005 off Australia's Special Broadcasting Service (SBS). To my surprise, the tape also included an additional "Happy Tree Friends and Friends" block. Lo and behold, said block contained another episode of Youri, the Spaceman! I'm a bit puzzled as to how I managed to miss this one for so long; I could have sworn that I'd already gone through all my old tapes scouring for episodes, but what'dya know. UPDATE 2/12/15: Back in December 2014, 18 more episodes (in high quality, too!) have been uploaded to MySpleen and can also be seen on Dailymotion.
-dycaite
References
Community content is available under
CC-BY-SA
unless otherwise noted.