When Yu-Gi-Oh! episodes 4 and 5 "Into the Hornet's Nest" and "The Ultimate Great Moth" aired on Kids' WB! in the USA, they were merged into one episode, "The Ultimate Great Moth". Much of Yugi and Weevil's duel was skipped, Mai's presence wasn't even known, and the song "Your Move" from the Yu-Gi-Oh! Music To Duel By soundtrack was featured. This originally aired October 20, 2001
The same thing happened to episodes 14 and 15, "The Light at the End of the Tunnel" and "Winning Through Intimidation", called "PaniK Attack". The element of Yugi defeating Panik in five turns was removed, and the song "PaniK" was featured. Said song wasn't on the official soundtrack, but was given away on singles with Mighty Kids Meals at McDonald's. This originally aired February 2, 2002.
The reason for these mergers is unknown, but it is speculated that it was either to promote the soundtracks or due to the delay of the premiere of the show by two weeks due to the 9/11 tragedy. Regardless, the four complete episodes were eventually seen on the DVDs, are currently streaming on Hulu and other platforms, and aired in the US on 4Kids TV on FOX as well as Nicktoons.
Rips of these episodes had circled at one point during the early 2000s, but they appear to be lost now.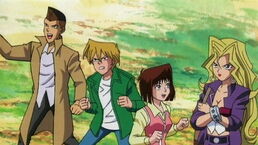 Community content is available under
CC-BY-SA
unless otherwise noted.